A dementia care journey | Commitment to compassion and understanding at Extendicare Cedars Villa and Hillcrest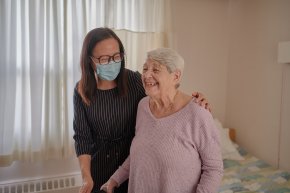 January is Alzheimer's Awareness Month – an important opportunity to highlight the impacts of a disease that takes an enormous toll on thousands of Canadians and their families.
At Extendicare, we have the privilege of being entrusted with supporting many residents and their families as they navigate the impacts of dementia, including Cedars Villa resident Mal and his wife and caregiver Mada.
Cedars Villa has been Mal's home for the past four years, and Mada is grateful to have expanded her knowledge of dementia while caring for her husband, in partnership with the home.
"Our experiences have taught me that you need to get comfortable in their world when you're with them," Mada said. "You can usually figure out what's bothering them by directly acknowledging what is upsetting them, instead of trying to change it. You would change it if you could, but it has to be in on their terms, and make sense to them."
The evolution of dementia care and commitment to ongoing learning at Extendicare Cedars Villa and Hillcrest
Dementia is by far the most common reason a person must leave their home and enter long-term care. As such, it is a critical area of seniors' care, and the needs among Canadians are growing rapidly.
According to research by the Alzheimer's Society of Canada, in 2020, there were 124,000 new cases of dementia diagnosed. By 2030, we can expect the total number of individuals living with dementia in Canada to be close to one million.
Two of Extendicare's long-term care homes in Alberta, Cedars Villa and Hillcrest, have shared how dementia care has evolved in their communities over the years.
Both homes had previously embraced a "Best Friends" approach, grounded in the recognition that a person living with dementia first and foremost needs their caregivers to stand beside them.
In addition, staff prioritized understanding every resident's life story, exercised compassion when communication broke down, and worked to create opportunities for meaningful engagement with residents throughout each day.
Over the years, Amanda Hardy, Regional Manager for Programs at Cedars Villa and Hillcrest, has proactively sought out additional opportunities to help her team build expertise in dementia care. Staff and family caregivers are provided with training opportunities on the Positive Approach to Care, including education on brain functions and therapeutic approaches to grow their understanding of dementia and build skills. Team members rely on person-centered principles, emphasizing how important it is to individualize care to respond to each resident's own needs. Person-centered care celebrates the skills, attributes, and memories that the person still has, instead of focusing on what they may have lost or can no longer do.
Care teams learned about brain changes in dementia to better understand responsive behaviours and employed tools for more positive outcomes, including working to understand behavior triggers, use of music therapy, identified positive physical approaches and relied on personal connectors to help build compassionate relationships for care.
The team also learned how to apply the GEMS State Model, to encourage caregivers to see a person with dementia as unique, with distinctive characteristics like gemstones, and to adjust their expectations, support, and care delivery in response to each person's behavioral trajectory.
Continued learning opportunities for team members and families at Extendicare Cedars Villa and Hillcrest has helped to promote a higher level of resident engagement and minimized the distress residents living with dementia often experience.
Kristine Vasquez, Director of Care for Dementia Programs at both homes speaks highly of the difference compassionate dementia care has made.
"It has given us the opportunity to better support our residents' family and friends who are also struggling to understand the changes that are constantly happening to their loved ones," she said. "We have been able to support our staff to better understand those in their care and have a more meaningful relationship as we assist them in the next chapter of their life journey... living in long-term care."
Resources
To learn more about dementia, and its impact on Canadians, visit the Alzheimer's Society of Canada's website: